2-Blade scimitar propeller for 4-stroke engines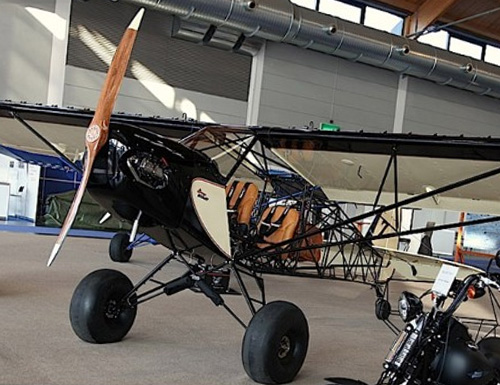 Scimitar propellers designed specifically for different aircraft-engine combinations:
Certified propellers in Germany for the Savage-Rotax 912S.
Savage aircraft

Rotax 912 S, 100 CV
Rotax 912, 80 CV
Rotax 914, 115CV
ULM Power,120 CV

Tecnam aircraft

Rotax 912 S, 100 CV
Rotax 912, 80 CV

Bücker – Tigre, 150 CV
Bücker – LOM, 140 CV
Etc.
Also for the Volks Wagen engine 1600, 1800, 1835 cc etc. widely used on the experimental airplanes
Consult us about which scimitar propeller is best suited for your aircraft contact
Thanks to the scimitar geometry, with engine RPM, air load and airplane speed as parameters, by slight natural deflection, an automatic pitch change is produced in the outer third of the propeller blades, adapting favorably to each phase of flight. What differences can you expect in a scimitar propeller versus a classic straight propeller?
Faster take-offs and better climbing.
Similar RPM in normal cruising.
Less engine RPM in high cruise.
In maximum cruise and full throttle, the engine does not exceed the maximum allowed RPM.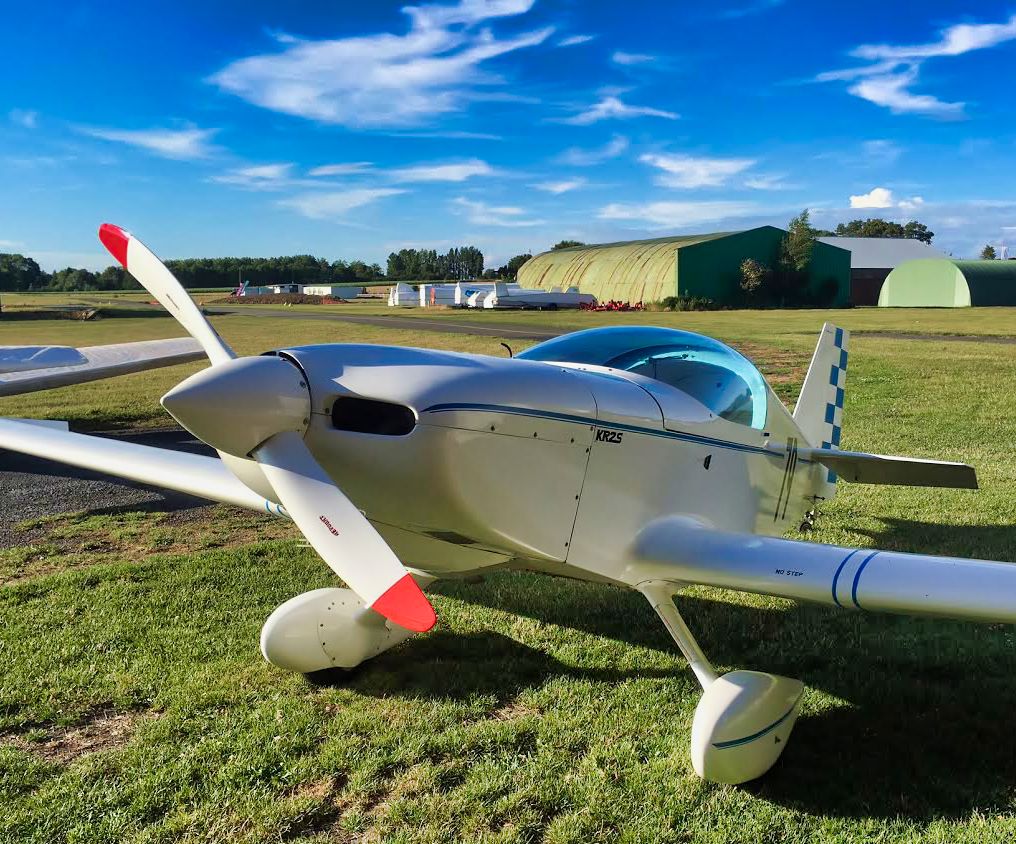 The price of our scimitar propellers always includes leading edge shielding and non-reflecting black on the rear surfaces, with the choice of either transparent finish or one colour of lacquer, and the colour of the tips.
Hélices de paso variable ajustable en tierra
Son hélices de tres o cuatro palas encastradas en un buje de dural.

Las hélices de paso variable en tierra nos dan la posibilidad de ajustar el paso según nuestra conveniencia, adaptándolo al uso que queramos hacer del ultraligero, optimizando el despegue, el crucero, o una solución intermedia.
Son aconsejables cuando el espacio disponible es limitado, (cuatripala si el espacio fuera muy limitado), pues logramos tener la superficie total de las palas necesaria con forma proporcionada de pala, que da mejor rendimiento que la hélice con palas muy anchas. Mejor que 2 – 3 palas muy anchas son 3 – 4 palas de ancho normal.
También tiene un funcionamiento mas suave y equilibrado al estar las masas de las palas mas distribuidas sobre el disco de hélice.
Es ¿mejor tripala? te respondemos en "preguntas frecuentes".
Precios
| Hélice | € |
| --- | --- |
| Hélices de 3 palas hasta diámetro 64"(163 cm) | 535 |
| Hélices de 4 palas hasta diámetro 66"(166 cm) | 700 |
| Extras | |
| Blindaje hélice 3 palas | 90 |
| Blindaje hélice 4 palas | 105 |
| Lacado "aviación" 3 palas | 105 |
| Lacado "aviación" 4 palas | 120 |
(21% de IVA para Europa no incluido)
2 blade fixed pitch propellers for 2 stroke engines

Rotax 447, Rotax 503, Rotax 532, Rotax 582, Hirth …
Designed, among others, for the American Rans ultralights: Coyote, Airaile, Sacota; and forQuick Silver, Flamingo, Chickinox, Tango, Bingo, Zenair etc. and for any other amateur construction.
Propellers machined from a block of laminated wood of maximum width 130 mm by 50 mm thick and length according to diameter.

Prices
diameter up to
€
42"(106 cm)
200
45"(115 cm)
205
52"(132 cm)
2015
62"(157 cm)
260
68"(173 cm)
325
Extras
Shielding of leading edges of 2-blade propeller
75
Lacquer in one colour plus tips
90
"Aviation" lacquer (one colour + non-reflecting black on rear surfaces + tips)
110
(21% VAT for Europe not included)
The standard final finish is transparent acrylic varnish.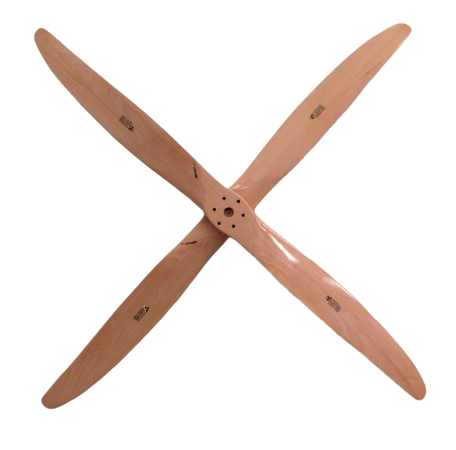 The price of a double propeller (4 blades) is the sum of the prices of the two propellers comprising it according to its diameter.
2 blade fixed pitch propellers for 4 stroke engines
We provide propellers for all engines used in light aviation:
Rotax 914, Rotax 912 y 912S, Jabiru, Lycoming, C-90, Limbach, VolksWagen, Citroen Visa …
Once provided with the details of the aircraft's engine, power, RPM, reduction gear and cruising speed, we can calculate, design and manufacture the propeller which you need to maximise flight performance and satisfaction.
Contact us and we will inform you in more detail.
Also, as an extra, the final finish can be in "aviation" lacquer: applying one colour all over with non-reflecting black on the rear surfaces, and red or another colour on the tips.

A composite shielding (glass fibre and resin) can be added to the leading edges.
The shielding of the leading edges protects against abrasion from small impacts (gravel, sand, etc.), especially during landings and take-offs.
It can also protect against bigger impacts, unlike other softer armourings, the force of the blow is distributed along the fibres, in more wooden surface, being able to produce in extreme cases the breakage of the armour without destroying the propeller.