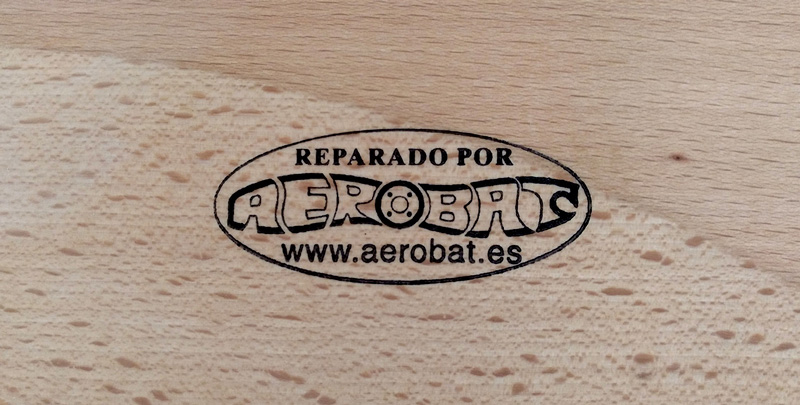 One of the advantages of using wood as a raw material for the manufacture of our propellers is the possibility of repairing breaks or damage in most cases.
In AEROBAT we have an experience of more than thirty years in the restoration of propellers and we can guarantee that the propellers restored in our facilities, have a performance exactly as they had when they were new, because they pass the same manufacturing controls.
A badly done repair can cause serious damage to the engine and the structure, with the consequent risk. You should not fly with a propeller that produces vibrations.
Send us one or more photos of the damaged propeller to see if the damage is repairable with the guarantee of a perfect operation and we will make you an estimate, contact us.
SHIPPING ADDRESS
AEROBAT
Pol. Ind. San Miguel, C/ río Jalon 7
50830 – Villanueva de Gallego (Zaragoza)
Spain
Phone: 617 772 273
Once the propeller is in our workshop, we will confirm the budget and with the speed and skill of our craftsmen, in about a week you will have your propeller ready to fly.
Prices of repairs
ULM 2 BLADE FIXED PITCH AND PARAMOTORS (2T engines in general)
| Repair |  Price |
| --- | --- |
| Damage restoration (according to working time) | 35 €/h |
| Balancing and varnishing | 40 € |
| Shielding balancing varnishing | 125 € |
(21% VAT for Europe not included)
LIGHT AND ULM AVIATION 2-BLADES (more powerful 4 stroke engines)
Repair
 Price
Damage restoration (according to working time)
35 €/h
Balancing and varnishing
55 €
Balancing and aviation lacquering
125 €
Shielding, balancing varnishing
140 €
Shielding, balancing and aviation lacquering
One general color + black inlays + red or other colored ends
160 €
(21% VAT for Europe not included)
HISTORIC GENERAL AVIATION (BÜCKER etc..)
Repair
 Price
Damage restoration (according to working time)
35 €/h
Shielding
140 €
Balancing, aviation varnishing
General varnish + black inlays + red or other colour ends.
200 €
Balancing, aviation lacquering
One general color, black inlays + red ends or other color.
240 €
(21% VAT for Europe not included)
HÉLICES DE PASO AJUSTABLE
TRIPALAS
Reparación
 Precio
Restauracion de daños (segun tiempo de trabajo)
35 €/h
Equilibrar y barnizar 3 palas
55 €
Blindar, equil, barnizar 3 palas
140 €
Sustituir 1 pala sin blindar
150 €
+ 45 € de equilibrar y barnizar el conjunto
Sustituir 1 pala blindada
180 €
+ 45 € de equilibrar y barnizar el conjunto
Sustituir las 3 palas s/blindar
450 €
incluído equilibrado y barnizado del conjunto
Sustituir las 3 palas blindadas
540 €
incluído equilibrado y barnizado del conjunto
(21% de IVA para Europa no incluído)
HÉLICES DE PASO AJUSTABLE
CUATRIPALAS
Reparación
 Precio
Restauracion de daños (segun tiempo de trabajo)
35 €/h
Equilibrar y barnizar
65 €
Blindar, equil, barnizar 4 palas
170 €
Sustituir 1 pala sin blindar
150 €
+ 55 € de equilibrar y barnizar el conjunto
Sustituir 1 pala blindada
180 €
+ 55 € de equilibrar y barnizar el conjunto
Sustituir las 4 palas s/blindar
600 €
incluído equilibrado y barnizado del conjunto
Sustituir las 4 palas blindadas
720 €
incluído equilibrado y barnizado del conjunto
(21% de IVA para Europa no incluído)